Western Isles Properties
Welcome to Western Isles Properties, Stornoway, Scotland. Western Isles Properties, Estate Agents for houses plots and commercial properties in the Hebrides. Western Isle Properties is the only off...
Read more
---

Dunroamin
Welcome to Dunroamin Bed and Breakfast, Stornoway, Scotland. Dunroamin is a small family run Bed and Breakfast, centrally located in the heart of the town of Stornoway which is set round a busy pictu...
Read more
---
Keltic Kanvas
Welcome to Keltic Kanvas Artwork, Stornoway, Scotland. Welcome from the Outer Hebrides, or The Western Isles of Scotland as we are also known. You will find galleries on Contemporary Art; Land and S...
Read more
---
Stornoway Historical Society
Welcome to the Stornoway Historical Society, Stornoway, Scotland. The objective of the Society is to advance the education of the public about the history, heritage and culture of Stornoway and the Is...
Read more
---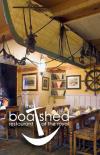 Boatshed Restaurant
Welcome to the Boatshed Restaurant situated at The Royal Hotel, Stornoway, Scotland. Here at the Boatshed Restaurant, you'll find great tastes, some traditional and some from further afield. What's c...
Read more
---
» Find more in Stornoway, Outer Hebrides