Aristoteles Hotel
Aristoteles hotel can be found at the trade center of Athens, 200m from Omonia Metro Station and very close to the International Railway Station. Aristoteles hotel is a modern building, which has bee...
Read more
---

Oasis Restaurant
Start your day in Athens, Aegean Sea in Greece with a scrumptious breakfast served at Oasis Restaurant. Oasis Restaurant is a local and international cuisine restaurant and an open air bar and restau...
Read more
---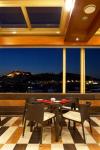 Crowne Dining
At Crowne Dining in Athens, Aegean Sea, Greece, there is a mouth-watering selection of dining options available, providing guests with high quality international cuisine. During the summer months, gu...
Read more
---

Holiday Conference
At Holiday Conference in Athens, Aegean Sea, Greece, we rely on our many years of experience and personal care, as well as our ultra-modern venues and equipment to make every event and conference a su...
Read more
---

Stratos Vassilikos Hotel
Stratos Vassilikos Hotel was renovated with the sole purpose of initiating a new vision in accommodation and relaxation in Athens, Aegean Sea, Greece. It addresses businessmen of high standards like ...
Read more
---
» Find more in Athens, Attica