Cascade Gardens
Welcome to Cascade Gardens, Apartments, Cairns, Australia. Cascade Gardens - A name to remember when visiting Cairns for business or pleasure. 48 fully renovated, luxury studio Apartments, one ...
Read more
---

Cairns Museum
Welcome to the Cairns Museum, Cairns, Australia. The Cairns Museum presents a history of Cairns and District in static and pictorial displays. Beginning with our Aboriginal and Islander beginnings, t...
Read more
---

Rainflowers
Welcome to Rainflowers, Florist, Cairns, Australia. Rainflowers & Wedding Bells Florist for your flowers in Cairns 5 minutes from the airport or city. All areas in Cairns Same day delivery. Trac...
Read more
---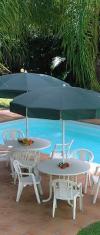 Marlin Gateway
Welcome to Marlin Gateway, Apartments, Cairn, Australia. Cairns Beaches Accommodation at Marlin Gateway Holiday Apartments in Trinity Beach is spacious and relaxing - a haven to come back to after a...
Read more
---

Bushfire Flame Grill
Welcome to the Bushfire Flame Grill, Cairns, Australia. The most unique and exciting dining experience in Cairns. We use carefully selected regional and Australia-wide ingredients including pri...
Read more
---
» Find more in Cairns, County of Nares