Hotel Aldebaran
Hotel Aldebaran At Hotel Aldebaran in Riccione (Italy) you can really feel at home, which is one of the typical traits of the best Romagna tradition. A Home with air-conditioned rooms which the Bad...
Read more
---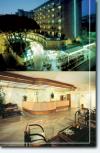 Hotel Concord
Hotel Concord in Riccione the Hotel of your dreams Hotel Concord,is an elegant four stars hotel , situated in the center of Riccione (Italy), close to Viale Ceccarini and 80 meters far from the beach...
Read more
---

Hotel Antibes
Hotel Antibes Our mission at Hotel Antibes in Riccione (Italy) is to make Your holiday really unforgettable: our secret is that our enthusiastic staff is managed by Filippo, Andrea and Lorenzo, owner...
Read more
---

Hotel Perla
Hotel Perla..where vacations are intensely enjoyable, whereour friendly staff welcome you with a smile and hospitality, close to the sea and the central shopping area - Hotel Perla in Riccione (Italy)...
Read more
---

Hotel Little
Hotel Little lies directly on the beach of Riccione (Italy), near the turistic little harbour, in a quiet and central place, at 800 mt. walk from the central Viale Ceccarini. By bus you can easily ...
Read more
---
» Find more in Riccione, Rimini