Hotel Flamengo
The Ugolini family and all the staff are glad to welcome you to Riccione (Italy), the "Pearl of the Adriatic Sea", and to wish you a pleasant stay at the Hotel Flamengo. We have acquired much experi...
Read more
---

Camping Fontanelle
Welcome to Camping Fontanelle: Camping Fontanelle is situated right on the seafront, surrounded by green fileds in a peaceful setting, Fontanella campsite is about 1Km. from the centre of Riccione ...
Read more
---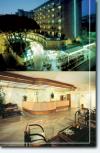 Hotel Concord
Hotel Concord in Riccione the Hotel of your dreams Hotel Concord,is an elegant four stars hotel , situated in the center of Riccione (Italy), close to Viale Ceccarini and 80 meters far from the beach...
Read more
---
Riccione Thermal Baths
Riccione Thermal Baths have been classified by the Health Ministry as of first level. Many tourists do not know that Riccione (Italy), besides the sea, the shopping and the funfairs, offers the possib...
Read more
---

Hotel Bel Air
This greeting comes from the Morri family and from all our Hotel's staff, who also wish you a pleasant holiday at Hotel Bel Air in Riccione (Italy) in a quiet and elegant venue, a short way from the s...
Read more
---
» Find more in Riccione, Rimini