Bull and Bush Pub
The Bull and Bush Pub A historic Rimini (Italy) pub the Bull and Bush Pub opened in 1967, very closely situated to the hostel, and even today, a favourite place amongst the young locals, and both ...
Read more
---

Hotel Villa dei Gerani
The Hotel Villa dei Gerani is your holiday residence, just 20 metres from the beach, in the centre of Rivabella in Rimini (Italy), offering full amenities for a truly relaxing and friendly holiday. ...
Read more
---

Hotel Abarth
Hotel Abarth in Rimini (Italy) is open throughout the year. Hotel Abarth is situated in the heart of Marina Centro near to the sea, the Hotel Abarth boasts a spacious garden and private car park...
Read more
---

Rimini Golf Club
The Rimini Golf Club has a comfortably endowed Club House consisting of a Bar-Restaurant where it is possible to taste exquisite plates of the local cuisine. Dressing room with showers, warehouse ba...
Read more
---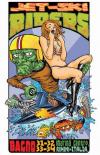 Jet Ski Riders
We rent Jet-ski (acqua bikes - acquascooter), RIB, windsurfs and sailing boards , canoes, pedalos boats and rowing boats, water-ski center. ...
Read more
---
» Find more in Rimini, Rimini