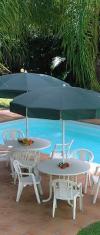 Marlin Gateway
Welcome to Marlin Gateway, Apartments, Cairn, Australia. Cairns Beaches Accommodation at Marlin Gateway Holiday Apartments in Trinity Beach is spacious and relaxing - a haven to come back to after a...
Read more
---
Cairns Regional Gallery
Welcome to Cairns Regional Gallery, Art Gallery, Cairns, Australia. Cairns Regional Gallery hosts exhibitions of fine arts from major Australian and international collections covering historical and ...
Read more
---

La Fleur
Welcome to La Fleur Florist, Cairns, Australia. Trading as La Fleur Florist. Established 26 Years Always in stock 70 cm (28 inches) Roses - Red, White, Mid Pink; Oriental Lillies; Anthiriums; ...
Read more
---

Rosewood Photography
Welcome to Rosewood Photography, Cairns, Australia. At Rosewood Photography, Cairns we understand that everyone loves a wedding – the emotion, the beauty, the romance of that special day, casts ...
Read more
---

Billabong Bed & Breakfast
Billabong is a secluded retreat for nature lovers & is set on an ISLAND in the heart of a large lily-covered Billabong teeming with fish & abundant birdlife. Owned by Vicky and Ted who discovered thi...
Read more
---
» Find more in Cairns, County of Nares