Cayman Airways
Fly Cayman Airways and experience the warmth of the Cayman Islands' hospitality before you even get there! Cayman Airways, the national airline for over 38 years, is the best way to fly to, from a...
Read more
---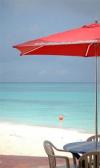 Reef Grill
Located in the heart of 7 mile beach is the Island's best known beach bar. Watersports, lounge chairs, great food, live music and the friendliest staff on the Island. The Reef Grill offers imaginativ...
Read more
---
The Lighthouse Restaurant
Giuseppe Gatta, descendant of Baron Von Gatta, was born in Caravaggio, Italy, infamous for the Painter Michelangelo Merisi. Captain G. was born with cooking in his blood. After graduating from the ...
Read more
---

Seasports
Seasports is the longest running, independent, Grand Cayman scuba diving operator. Our safety record is unmatched. Butch Sjostrom (owner) and Greg Jacobs (owner/instructor) have over 18,000 hours ...
Read more
---
Ristorante Pappagallo
On crossing the wooden bridge that leads to Ristorante Pappagallo, you will see swimming beneath you are sleek silvery tarpon, always on the look out for scraps from the kitchen. You are thus, thrown ...
Read more
---
» Find more in Grand Cayman, Grand Cayman