Royal Rio Palace Hotel
The Royal Rio Palace Hotel is located in a privileged spot in Rio de Janeiro, Brazil, a few steps from Copacabana beach (one and a half blocks), and very close to the underground (metro) station. Roya...
Read more
---

Merlin Conference
Merlin Conference in Copacabana, Rio de Janeiro in Brazil offers modern reversible convention rooms, complete with every facility needed for business meetings, conferences, seminars and cocktail parti...
Read more
---

Premier Copacabana Hotel
Six blocks from Copacabana Beach and three miles from Ipanema Beach, the 15-story Premier Copacabana Hotel stands within 10 kilometers of vibrant downtown Rio de Janeiro in Brazil, and Sugar Loaf Mou...
Read more
---

Copacabana Palace Hotel
Located right on Rio's Copacabana beach, the Copacabana Palace Hotel is the most renowned hotel in Rio de Janeiro, Brazil, and has welcomed the rich and famous since 1923. A glamorous icon of the cit...
Read more
---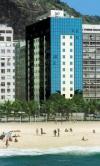 Windsor Excelsior Hotel
Situated on the seafront of Copacabana Beach, Rio de Janeiro in Brazil the Windsor Excelsior Hotel offers a central location and astonishing views to the sea and the statue of Christ the Redeemer. Th...
Read more
---
» Find more in Copacabana, Rio de Janeiro