Cronulla Public School
Cronulla Public School, Australia, provides a small school environment, where dedicated staff provide quality education across all key learning areas. Programs at the Cronulla Public School are sens...
Read more
---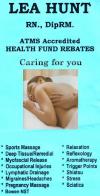 Lea Hunt
Welcome to Lea Hunt, Cronulla, Australia, a Massage Therapist and Registered Nurse. Lea Hunt,offers the following services: Deep Tissue, Relaxation, Remedial, Sport and Swedish massage. Lea Hunt's ...
Read more
---

Gaitrent Guest House
Welcome to the Gaitrent Guest House, Cronulla, Austrailia, "Your Home Away From Home". The Gaitrent Guest House is ideally located, just 5 minutes walk from Cronulla Beach on the Kingsway. ...
Read more
---

Millar Partners Chartered Accountants
Millar Partners Chartered Accountants, Cronulla, Australia, is one of the longest established chartered accounting firms in the Sutherland Shire. Based in Cronulla, we provide a complete range of publ...
Read more
---

Cronulla Beach
Surfing, body boarding and sandy beaches at Sydney's Cronulla Beach will fill your day with watersport fun. And don't forget the nightlife - with pubs, clubs, restaurants, cafes and movies the enterta...
Read more
---
» Find more in Cronulla, Sydney