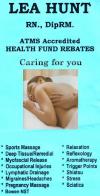 Lea Hunt
Welcome to Lea Hunt, Cronulla, Australia, a Massage Therapist and Registered Nurse. Lea Hunt,offers the following services: Deep Tissue, Relaxation, Remedial, Sport and Swedish massage. Lea Hunt's ...
Read more
---

Cronulla Public School
Cronulla Public School, Australia, provides a small school environment, where dedicated staff provide quality education across all key learning areas. Programs at the Cronulla Public School are sens...
Read more
---

Cronulla Cinemas
Welcome to Cronulla Cinemas, Australia where you will find multi-Digital Sound formats including Dolby Digital Surround, Stadium Seating for unobstructed views, wall to Wall Screens, deluxe high b...
Read more
---

Cronulla Beach
Surfing, body boarding and sandy beaches at Sydney's Cronulla Beach will fill your day with watersport fun. And don't forget the nightlife - with pubs, clubs, restaurants, cafes and movies the enterta...
Read more
---

Cronulla Railway Station
Cronulla Railway Station, Australia, is a Railway Station on the Cityrail network, a short distance from Cronulla Beach of Sydney, Australia, on the Pacific Ocean. It is the eastern terminus of a sing...
Read more
---
» Find more in Cronulla, Sydney