Pizzeria Ra Stua
Welcome to Pizzeria Ra Stua, Sottomarina, Italy. The restaurant - Pizzeria Ra Stua in Sottomarina, is situated on the Promenade Adriatic, centrally located a few meters from the sea and the beach. ...
Read more
---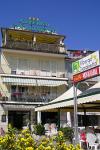 Hotel Al Giardinetto
Welcome to The Hotel Al Giardinetto, Sottomarina, Italy, The Hotel Al Giardinetto, is located in the historic centre of Sottomarina and only a few metres from the beach which is famous for its thera...
Read more
---

Pizzeria Grifone
The Restaurant Pizzeria Grifone, Sottomarina Italy, is situated in the central area within walking distance of the Waterfront Adriatic and the beach. Pizzeria Grifone is open every day, for lunch a...
Read more
---

Metropol Hotel
Welcome to the Metropol Hotel, Sottomarina, Italy. Here you can expect great service. Metropol Hotel, Sottomarina offers a bar and inner parking area, a classified beach zone, perfectly equipped...
Read more
---

Granso Stanco
Listen to the call of the Sea ... it's Granso Stanco Sottomarina, Italy, invinting you to enjoy it while trying all the tasty treats it offers you. The restaurant Granso Stanco features three differ...
Read more
---
» Find more in Sottomarina, Venice