Metropol Hotel
Welcome to the Metropol Hotel, Sottomarina, Italy. Here you can expect great service. Metropol Hotel, Sottomarina offers a bar and inner parking area, a classified beach zone, perfectly equipped...
Read more
---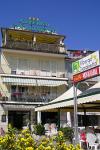 Hotel Al Giardinetto
Welcome to The Hotel Al Giardinetto, Sottomarina, Italy, The Hotel Al Giardinetto, is located in the historic centre of Sottomarina and only a few metres from the beach which is famous for its thera...
Read more
---

MeetingForce
MeetingForce wiil assist you with all aspects of finding and arranging a Convention Center in Sottomarina. MeetingForce helps with planning a Sottomarina Corporate Event, as well as planning a weekend...
Read more
---

Atmosfera
What started as a beautiful friendship in Sottomarina, a desire to test one's limits, an enthusiasm for living, the dare to achieve a dream. So was Atmosfera born offering new, pleasant and relaxing s...
Read more
---

Hotel Bristol
Welcome to Hotel Bristol, Sottomarina, Italy. Located a few kilometres from Venice, Sottomarina di Chioggia is one of the oldest summer tourist resorts on the North Adriatic. The Hotel Bristol o...
Read more
---
» Find more in Sottomarina, Venice