Mirage Village
The Mirage Village Hotel, Dahab, Egypt is situated on the beach in the northern part of Dahab, between the Lighthouse and Eel Garden dive sites. The Mirage Village Hotel and is well known for its frie...
Read more
---

Octopus Divers
Welcome to Octopus Divers, Dahab, Egypt. Octopus Divers pride themselves on being passionate, professional, and personalised in all the Red Sea scuba Diving trips. Whether scuba Diving with Octop...
Read more
---

Iberotel Dahabeya
Egypt is where the windsurfing is at its best and holidays are free and easy. This is where you will find the Iberotel Dahabeya! The 4 star Iberotel Dahabeya Hotel has 144 rooms with pleasant furnish...
Read more
---

Lighthouse Dive Centre
Welcome to The Lighthouse Dive Centre, Dahab, Egypt. The Lighthouse Dive Centre has been in operation for 7 years in the Sinai peninsula. Its name was taken from the most popular Dahab dive site whic...
Read more
---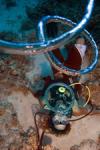 Poseidon Divers
Welcome to Poseidon Divers, Dahab, Egypt. Poseidon Divers is a long established group of dive centres that were the first PADI Career Development Centres and PADI National Geographic Centres in Dahab...
Read more
---
» Find more in Dahab, Sinai Peninsula