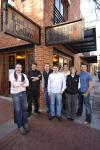 East End Cellars
Welcome to East End Cellars, Adelaide, Australia. East End Cellars was opened in January 1998 by Michael Andrewartha, an incurable wine fanatic with over twenty years experience in fine wine retail. ...
Read more
---

Saldechin
Welcome to Saldechin, Adelaide, Australia. At Saldechin you will find an ambiance of harmony and traditional Chinese tranquility far removed from the chaotic demands of everyday. The Saldechin Tea Ro...
Read more
---

Oaks Horizons
Welcome to the Oaks Horizons, Adelaide, Australia. Located opposite the Adelaide Convention Centre in the heart of the CBD, Oaks Horizons Hotel offers spacious one and two bedroom apartments. Leisure...
Read more
---

Blackwell Funerals
Welcome to Blackwell Funerals, Adelaide, Australia. First established in 1940, Blackwell Funerals continues its tradition of service to Adelaide. Our Funeral arrangers are there to gently guide you ...
Read more
---
The Energy Clinic (Fitness/Movement Centre)
Energy Clinic provides several ways, each of which leads to a healthier, fitter you. At Energy Clinic, we offer Pilates training, yoga classes, crossfit training and much more. We let you undergo a co...
Read more
---
» Find more in Adelaide, South Australia