I Fiori Blu Di Sicilia
If you want to experience a cultural vacation in Sicily and want to learn Italian language our Cult. Ass. I Fiori Blu Di Sicilia, Comunity Development in Palermo Italy waits for you in the wonderful c...
Read more
---

Astoria Palace Hotel
Comfort, quality, efficiency, professionalism, these are the four stars that the Astoria Palace Hotel in Palermo, Italy guarantees to its guests since 1988, inside its great and prestigious structure....
Read more
---

Hotel Villa D Amato
In Palermo, Italy in a liberty style building with a beautiful garden of palm trees and flowers, Hotel Villa D Amato welcomes guests to comfortable rooms complete with modern amenities and services. I...
Read more
---

Hotel Joli
Hotel Joli,- A JEWEL OF A HOTEL In the heart of the most exuberant Palermo, an elegant liberty residence is converted to a hotel. Hotel Joli is a true jewel as far as hospitality is concerned, where ...
Read more
---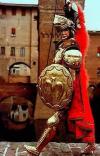 Fratelli Pasqualino
Welcome to the official web-site of the Fratelli Pasqualino Theatre in Palermo Italy . The Pupi Siciliani—a unique kind of large and heavy marionettes covered with knightly armor—are the t...
Read more
---
» Find more in Palermo, Palermo