Casa Tentoni
Casa Tentoni Guest House - agriturism In this little, charming and quiet corner, away from the daily frenzy, you can relax surrounded by a large garden of flowers, olive, hazel and lime trees. Be...
Read more
---

Hotel Little
Hotel Little lies directly on the beach of Riccione (Italy), near the turistic little harbour, in a quiet and central place, at 800 mt. walk from the central Viale Ceccarini. By bus you can easily ...
Read more
---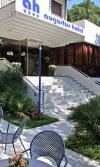 Hotel Augustus
The Hotel Augustus is located in the town centre of Riccione (Italy), a few steps from the sea and from Viale Ceccarini, surrounded by age-old pine-trees in an oasis of absolute peace and tranquillity...
Read more
---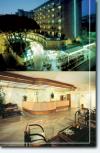 Hotel Concord
Hotel Concord in Riccione the Hotel of your dreams Hotel Concord,is an elegant four stars hotel , situated in the center of Riccione (Italy), close to Viale Ceccarini and 80 meters far from the beach...
Read more
---
Riccione Thermal Baths
Riccione Thermal Baths have been classified by the Health Ministry as of first level. Many tourists do not know that Riccione (Italy), besides the sea, the shopping and the funfairs, offers the possib...
Read more
---
» Find more in Riccione, Rimini