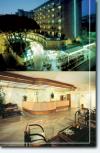 Hotel Concord
Hotel Concord in Riccione the Hotel of your dreams Hotel Concord,is an elegant four stars hotel , situated in the center of Riccione (Italy), close to Viale Ceccarini and 80 meters far from the beach...
Read more
---
Le Conchiglie
The Hotel Le Conchiglie of Riccione (Italy) situated inside a pine forest directly on the sea which can be reached by a private under passage, disposes of 150 rooms furnished with great elegance. F...
Read more
---
Residence Novella
The Residence Novella, open all the year round, is situated in the centre of Riccione (Italy), nearest the beach (30 m.), and the lively avenue Viale Dante. We propose you a new style of holiday, id...
Read more
---
Riccione Thermal Baths
Riccione Thermal Baths have been classified by the Health Ministry as of first level. Many tourists do not know that Riccione (Italy), besides the sea, the shopping and the funfairs, offers the possib...
Read more
---

Hotel Perla
Hotel Perla..where vacations are intensely enjoyable, whereour friendly staff welcome you with a smile and hospitality, close to the sea and the central shopping area - Hotel Perla in Riccione (Italy)...
Read more
---
» Find more in Riccione, Rimini