Camp Kalac
Welcome to Camp Kalac, Korcula, Croatia. Camp Kalac is a large Campsite (10 000 m2) situated in the bay of Luka Korculanska, about a 20 minute pleasant walk along the bay/seashore from Korcula Old To...
Read more
---

Lesic Dimitri Palace
Welcome to Lesic Dimitri Palace, Korcula, Croatia. Lesic Dimitri Palace was presented, for the first time, at the recent seminar on "The importance of special interests tourism for sustainable ...
Read more
---

Fishing
Most of the people from the island of Korcula, Croatia, fish the area surrounding the island while some, more experienced dare to sail to the Island of Lastovo, Mljet and Glavat. Locals mainly fish in...
Read more
---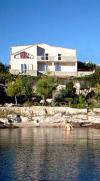 Villa Sole
Welcome to Villa Sole, Korcula, Croatia. Located in a seaside bay in the serene settlement coastline of Soline, 4km from the old town of Korcula, Villa Sole provides a peaceful retreat in tranquil sur...
Read more
---

Hotel Bon Repos
Welcome to Hotel Bon Repos, Korcula, Croatia. The Hotel Bon Repos is built in typical style of 70's architecture. The Hotel is positioned right on the seashore of Korcula Luka Korculanska Beach, in t...
Read more
---
» Find more in Korcula, Dubrovnik-Neretva