Oyster Shores Motel
Welcome to Oyster Shores Motel, Yamba, Australia. Oyster Shores Motel is the place to stay in Yamba. The accommodation at Oyster Shores Motel consists of 27 Ground floor units and a fully self contai...
Read more
---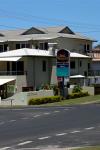 Yamba Beach
Welcome to Yamba Beach Motel, Best Western, Yamba, Australia. Yamba Beach Motel, a 4 star property in YAMBA offering quality accommodation, value for money, comfort and friendly service. It is the pe...
Read more
---

Calypso Holiday Park
Welcone to Calypso Holiday Park, Yamba, Australia. From Calypso Holiday Park you can walk to beaches, shops, restaurants and clubs. At Calypso Holiday Park we offer a choice of cabins, riverfront vil...
Read more
---

Sands Penthouse
Welcome to Sands Penthouse, Yamba, Australia . The Sands Penthouse Unit 23 sets the standard for luxury accommodation in Yamba. The luxurious 3 bedroom unit is set on 2 levels and can sleep up to 6 ...
Read more
---

Sound Lounge Cafe
Welcome to the Sound Lounge Cafe, Yamba, Australia. Sound Lounge Cafe is a large cafe retail outlet situated in the heart of Yamba's main street. We operate from 7am to 5pm, 7 days a week. Our menu ...
Read more
---
» Find more in Yamba, Clarence