House Rondina
Welcome to House Rondina, a Self Catering Apartment in Old Town, Korcula, Croatia. House Rondina offers double and single rooms as well as one Self Catering Apartment that can accommodate up to 5 peo...
Read more
---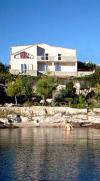 Villa Sole
Welcome to Villa Sole, Korcula, Croatia. Located in a seaside bay in the serene settlement coastline of Soline, 4km from the old town of Korcula, Villa Sole provides a peaceful retreat in tranquil sur...
Read more
---

Hotel Marko Polo
Recently renovated Hotel Marko Polo in Korcula consists of a reception hall, a restaurant, a café, an aperitif bar, a souvenir shop and a TV salon. The hotel has 94 rooms, capacity 210 pe...
Read more
---

Beaches
Korcula, Croatia, has a lot of small and secluded Beaches all over the island, but the best and most popular ones, are sandy beach Vela Przina in Lumbarda and pebble beach Pupnatska Luka. Although th...
Read more
---

Camp Kalac
Welcome to Camp Kalac, Korcula, Croatia. Camp Kalac is a large Campsite (10 000 m2) situated in the bay of Luka Korculanska, about a 20 minute pleasant walk along the bay/seashore from Korcula Old To...
Read more
---
» Find more in Korcula, Dubrovnik-Neretva