The Mandala Hotel
Arrival, departure, and in between, at The Mandala Hotel in Berlin, Germany, you will find a second home. Welcome to the privately managed environment of The Mandala Hotel at Potsdamer Platz. &n...
Read more
---

Hotel Artim
Hotel Artim is situated in a quiet street in the heart of Berlin, Germany. Conveniently located in the historical centre close to both underground station and bus stop Hotel Artim provides an id...
Read more
---

City Hotel Ansbach
City Hotel Ansbach is a modern hotel, located in one of Berlin's most central areas with historic shops and businesses. Being in the heart of Berlin, Germany, means that guests of&n...
Read more
---

Hotel Pension Spree
Guests of the Hotel Pension Spree in Berlin, Germany are assured of pleasant stays in our charming, comfortable rooms, which combine a relaxing atmosphere with traditional German design and flair. Che...
Read more
---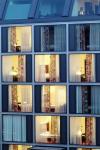 Arcotel Velvet
In one of the most vibrant areas of Berlin-Mitte, in Germany, where creativity, culture and art come together, and hidden behind a high-tech glass façade, nestles the warm and cosy Arcotel Velv...
Read more
---
» Find more in Berlin, Berlin