Hotel Lido Blu
Hotel Lido Blu, is a modern and comfortable four-stars hotel, placed in a wonderful quiet position, on the shores of Lake Garda in Torbole, Italy with a wide beach and a small port for boats. Ro...
Read more
---

Hotel Benaco
In a perfect position in the center of Torbole, Italy and only 50 meters from the beach, the Hotel Benaco offers the most comfortable single, twin and 3-bedded rooms, the restaurant and bar on the pro...
Read more
---

Hotel Torbole
The Hotel Torbole, lies only a few metres from the lakeshore and just 500m from the centre of town. It is partly renewed and only the Gardesana Orientale divides the hotel from the beach and the lake ...
Read more
---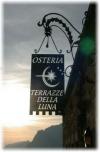 Osteria Terrazze Della Luna
The Osteria Terrazze Della Luna Restaurant, run by brothers Paul and Andrea Armellini, is located on the cliffs overlooking Lake Garda in Torbole, Italy. It is easily accessible from the exit of Rover...
Read more
---

Vittoria Appartamenti
Vittoria Appartamenti, Self Catering in Torbole, Italy is located in a great calm and sunned garden. The beach and the center of the country is within five minutes walking distance. All the apartme...
Read more
---
» Find more in Nago-Torbole, Trento