Albergo Paradiso
Located along the picturesque bay of Torbole, Italy, the Albergo Paradiso, Hotel, is the ideal place to stay, particularly for activities such as windsurfing because of its position directly perpendi...
Read more
---

Hotel Angelini
The Angelini family welcomes you to Torbole, Italy, a charming town that lies on the northern shores of Lake Garda. The Hotel Angelini is located in a quiet and sunny milieu just 100 meters from the l...
Read more
---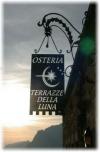 Osteria Terrazze Della Luna
The Osteria Terrazze Della Luna Restaurant, run by brothers Paul and Andrea Armellini, is located on the cliffs overlooking Lake Garda in Torbole, Italy. It is easily accessible from the exit of Rover...
Read more
---

Vittoria Appartamenti
Vittoria Appartamenti, Self Catering in Torbole, Italy is located in a great calm and sunned garden. The beach and the center of the country is within five minutes walking distance. All the apartme...
Read more
---

Hotel Caravel
The Hotel Caravel, is located downtown, just 100 meters from the beach of Torbole and is ideal for outdoor sports such as sailing, surfing, mountain biking, climbing, etc. As well as a relaxing stay a...
Read more
---
» Find more in Nago-Torbole, Trento