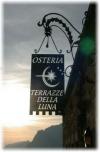 Osteria Terrazze Della Luna
The Osteria Terrazze Della Luna Restaurant, run by brothers Paul and Andrea Armellini, is located on the cliffs overlooking Lake Garda in Torbole, Italy. It is easily accessible from the exit of Rover...
Read more
---

Hotel Lido Blu
Hotel Lido Blu, is a modern and comfortable four-stars hotel, placed in a wonderful quiet position, on the shores of Lake Garda in Torbole, Italy with a wide beach and a small port for boats. Ro...
Read more
---

Albergo Paradiso
Located along the picturesque bay of Torbole, Italy, the Albergo Paradiso, Hotel, is the ideal place to stay, particularly for activities such as windsurfing because of its position directly perpendi...
Read more
---

Hotel Ristorante Aurora
The Balduzzi family will be pleased to offer you a warm welcome to the recently renovated Hotel Ristorante Aurora, which is just a short distance from the centre of Torbole, Italy and Lake Garda. The ...
Read more
---
Oradini Sport
Shop Oradini Sport in Torbole, Italy began with the sale of Klepper, Mistral, and Windglider boards. The first name of the shop was Euro Windsurfing Shop, 1000 square meters completely devoted to wind...
Read more
---
» Find more in Nago-Torbole, Trento