Surf Segnana
Windsurfing is our home at the Surf Segnana, Sport in Torbole, Italy: wind, hotel capacity, hospitality, friendliness and cordiality are a guarantee for an unequaled holiday. Our centers at Surf Segna...
Read more
---

Ristorante La Terrazza
Wedged between the cliffs of Mount Baldo and Brescian mountains, the famous Ristorante La Terrazza, Restaurant in Torbole, Italy offers a staggering view from its veranda tables. The location of the R...
Read more
---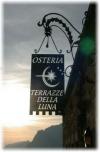 Osteria Terrazze Della Luna
The Osteria Terrazze Della Luna Restaurant, run by brothers Paul and Andrea Armellini, is located on the cliffs overlooking Lake Garda in Torbole, Italy. It is easily accessible from the exit of Rover...
Read more
---

Hotel Lago di Garda
Located on the lake front, facing the wonderful gulf of Torbole, Italy in a wonderful scenic setting , 100 meter from the public beach, right next to the center , the Hotel Lago di Garda, welcomes his...
Read more
---
Oradini Sport
Shop Oradini Sport in Torbole, Italy began with the sale of Klepper, Mistral, and Windglider boards. The first name of the shop was Euro Windsurfing Shop, 1000 square meters completely devoted to wind...
Read more
---
» Find more in Nago-Torbole, Trento