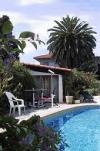 Le Castel Enchante
Situated in the heart of a floral paradise, the Bed and Breakfast Le Castel Enchante, in France Nice welcomes you all year round. 10 minutes from the Promenade des Anglais, in the Nice hills you will ...
Read more
---

Villa La Citronneraie
Villa La Citronneraie, is located on a hill of Nice France and the main-house is situated on the upper level of the property. In this main-house you find the big living room, the kitchen and 5 of the...
Read more
---
Studio Nicois
Studio Nicois, is a charming large and airy Self Catering studio, in Nice France with 42 square meters (452 square feet), renovated bathroom, large combined living/dining/bedroom with one double bed a...
Read more
---

Arche
Let's go back to the 70's when the Shop Arche in Nice France began. Just for fun, because lately it seems that the 70's are recycled, paradied, resurrected with a mixture of nostalgia and fatality. ...
Read more
---

Hotel Carlyna
Hotel Carlyna is located in the heart of Nice, France, just next door to the Galerie Lafayette on the main avenue. Only 50 meters away from the Massena gardens and the sea front on the Promenade des A...
Read more
---
» Find more in Nice, Alpes-Maritimes