Polar Inn
Welcome to the Polar Inn, Churchill, Canada. Since the early 1600s, explorers have been travelling to the Hudson Bay. Overwintering on ships or in a stone fortress, the arctic treasures fascinated and...
Read more
---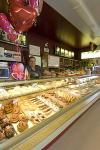 Gypseys Bakery
Welcome to Gypseys Bakery, Churchill, Canada. Whether you are in the mood for a charbroiled burger or a gourmet meal, Gypseys Bakery has it all. Owned and operated by the Da Silva family, this license...
Read more
---
Hudson Bay Helicopters
Welcome to Hudson Bay Helicopters in Churchill, Manitoba, Canada. Hudson Bay Helicopters has the distinction of being the oldest Helicopter company in the Canadian sub-Arctic. For many years polar b...
Read more
---
Aurora Inn
Welcome to The Aurora Inn, Churchill, Canada. The Aurora Inn offers spacious 2 story suites for accommodation with true northern hospitality that is centrally located and within steps of Churchill's ...
Read more
---
Calm Air
Welcome to Calm Air Airline, Churchill, Canada. Calm Air has a proud of history of service and a solid reputation as Central Canada's Regional Airline. From its beginnings in 1962 as a single ...
Read more
---
» Find more in Churchill, Hudson Bay