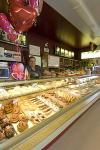 Gypseys Bakery
Welcome to Gypseys Bakery, Churchill, Canada. Whether you are in the mood for a charbroiled burger or a gourmet meal, Gypseys Bakery has it all. Owned and operated by the Da Silva family, this license...
Read more
---

Northern Lights Travel Lodge
Welcome to the Northern Nights Travel Lodge, Churchill, Canada The Northern Nights Travel Lodge was established in 1992 and over the years has gone under some reconstruction. It started out sm...
Read more
---

Sea North Tours
Sea North Tours,is a family owned company evolved from a love of the subarctic and its wildlife. Mike and Doreen are year round residents that have specialized in marine tours since 1977. Floe Ice To...
Read more
---

Polar Inn
Welcome to the Polar Inn, Churchill, Canada. Since the early 1600s, explorers have been travelling to the Hudson Bay. Overwintering on ships or in a stone fortress, the arctic treasures fascinated and...
Read more
---

Iceberg Inn
Welcome to The Iceberg Inn, Churchill, Canada. The Iceberg Inn has eight rooms each with two twin beds, full bathroom, table, 2 chairs, small fridge and cable television. One of the rooms is wheelcha...
Read more
---
» Find more in Churchill, Hudson Bay