Hotel Torbole
The Hotel Torbole, lies only a few metres from the lakeshore and just 500m from the centre of town. It is partly renewed and only the Gardesana Orientale divides the hotel from the beach and the lake ...
Read more
---

Hotel Angelini
The Angelini family welcomes you to Torbole, Italy, a charming town that lies on the northern shores of Lake Garda. The Hotel Angelini is located in a quiet and sunny milieu just 100 meters from the l...
Read more
---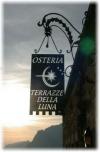 Osteria Terrazze Della Luna
The Osteria Terrazze Della Luna Restaurant, run by brothers Paul and Andrea Armellini, is located on the cliffs overlooking Lake Garda in Torbole, Italy. It is easily accessible from the exit of Rover...
Read more
---

Hotel Garni Villa Magnolia
Welcome to Hotel Garni Villa Magnolia! Here in the enchanting landscape of Lake Garda, Torbole, Italy you will find a warm and family welcome. Our family has been running the Hotel Garni Villa Magnol...
Read more
---

Hotel Lago di Garda
Located on the lake front, facing the wonderful gulf of Torbole, Italy in a wonderful scenic setting , 100 meter from the public beach, right next to the center , the Hotel Lago di Garda, welcomes his...
Read more
---
» Find more in Nago-Torbole, Trento