Schlosshotel im Grunewald
The Schlosshotel is a place rich with history and charm recapturing the splendour of a castle and transforming it into an unrivaled luxury hotel. The same team that restored the historic Sanssouci Pal...
Read more
---

Generator Hostel
Welcome to Generator Hostel in Berlin, Germany with a sister hostel in London. Generator Hostel provides a unique backpacker experience which offers you safe, comfortable budget accommodation an...
Read more
---
Berlin International Youth Hostel
Welcome to Berlin International Youth Hostel, the active hostel in Berlin, Germany. Discover something new every day in Berlin, and start your perfect day at the Berlin International Youth Host...
Read more
---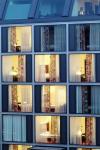 Arcotel Velvet
In one of the most vibrant areas of Berlin-Mitte, in Germany, where creativity, culture and art come together, and hidden behind a high-tech glass façade, nestles the warm and cosy Arcotel Velv...
Read more
---

City Hotel Ansbach
City Hotel Ansbach is a modern hotel, located in one of Berlin's most central areas with historic shops and businesses. Being in the heart of Berlin, Germany, means that guests of&n...
Read more
---
» Find more in Berlin, Berlin