Hotel Garden
The Hotel Garden, Equipped with every modern comfort, is to be found in a quiet spot only 150 metres from the beach and a short stroll from the famous Viale Ceccarini as well as being near Riccione's ...
Read more
---

Hotel Gemma
Directly overlooking Riccione's beach, Hotel Gemma receives you into a welcoming and elegant atmosphere. Parking at Hotel Gemma in Riccione (Italy) is available for free and for a fee. The rooms...
Read more
---

Hotel Mocambo
WELCOME RICCIONE Hotel Mocambo Hotel Mocambo,is situated in the heart of Riccione (Italy), in the pedestrian area of Via Dante, only 100m away from Viale Ceccarini and the sea. Hotel Moc...
Read more
---

Indiana Golf
Indiana Golf in Riccione Indiana Golf is the greatest adventuregolf theme park in Riccione, Italy. You will experience at Indiana Golf an unforgettable adventure amongwaterfalls and rocks, po...
Read more
---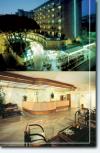 Hotel Concord
Hotel Concord in Riccione the Hotel of your dreams Hotel Concord,is an elegant four stars hotel , situated in the center of Riccione (Italy), close to Viale Ceccarini and 80 meters far from the beach...
Read more
---
» Find more in Riccione, Rimini