Surf Segnana
Windsurfing is our home at the Surf Segnana, Sport in Torbole, Italy: wind, hotel capacity, hospitality, friendliness and cordiality are a guarantee for an unequaled holiday. Our centers at Surf Segna...
Read more
---

Hotel Caravel
The Hotel Caravel, is located downtown, just 100 meters from the beach of Torbole and is ideal for outdoor sports such as sailing, surfing, mountain biking, climbing, etc. As well as a relaxing stay a...
Read more
---

Hotel Benaco
In a perfect position in the center of Torbole, Italy and only 50 meters from the beach, the Hotel Benaco offers the most comfortable single, twin and 3-bedded rooms, the restaurant and bar on the pro...
Read more
---

Cassa Piccola
"Little House" was conceived as a hotel suite and offers new apartments finished in detail. Immersed in the olive trees and 10 minutes from the lake or beach is Cassa Piccola, Self Catering in Torbole...
Read more
---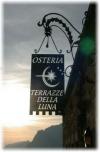 Osteria Terrazze Della Luna
The Osteria Terrazze Della Luna Restaurant, run by brothers Paul and Andrea Armellini, is located on the cliffs overlooking Lake Garda in Torbole, Italy. It is easily accessible from the exit of Rover...
Read more
---
» Find more in Nago-Torbole, Trento