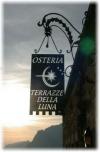 Osteria Terrazze Della Luna
The Osteria Terrazze Della Luna Restaurant, run by brothers Paul and Andrea Armellini, is located on the cliffs overlooking Lake Garda in Torbole, Italy. It is easily accessible from the exit of Rover...
Read more
---

Hotel Piccolo Mondo
Hotel Piccolo Mondo, in Torbole, Italy, since its renovation and enlargement, has reached a new level of quality. What hasn't changed is the friendly and attentive atmosphere generated by the Ch...
Read more
---

Hotel Santoni
Welcome to the Hotel Santoni. You love sport and you like to organise your own holidays? So you want an inviting hotel with charm, but flexible enough to fit in with your needs? Th...
Read more
---

Surfcenter Lido Blu
Welcome to Surfcenter Lido Blu! Looking for a unique vacation spot? Then you've come to the right place........ Surfcenter Lido Blu offers vacation packages to satisfy everyone, from the relaxed t...
Read more
---

Ristorante La Terrazza
Wedged between the cliffs of Mount Baldo and Brescian mountains, the famous Ristorante La Terrazza, Restaurant in Torbole, Italy offers a staggering view from its veranda tables. The location of the R...
Read more
---
» Find more in Nago-Torbole, Trento