Kathleen's 5
Funky modernism, classic nostalgia and absolutely delicious contemporary cuisine merge in a new restaurant that defines modern Shanghai: Kathleen's 5 Set on the roof of the 1934 British Racing Club b...
Read more
---
Grand Hyatt Shanghai Restaurants
An extensive collection of restaurants and bars, each with stunning views of Shanghai, offers guests at Grand Hyatt Shanghai a unique dining experience and a broad choice of cuisines from which to sel...
Read more
---

Autumnleaves Corporate Gifts
Original designs, inspiration from ancient chinese Civilization. pure things in pure place. Chinese black pottery, painted pottery, Chinese fresco, fine tablelinen, cushion cover, silk pouches, deco...
Read more
---
M on the Bund
When M on the Bund opened in January 1999, the historic waterfront Bund and its surrounds was a culinary desert. Michelle Garnaut had spent two weeks guest chef-ing at The Peace Hotel in 1996 (in the ...
Read more
---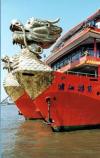 Huangpu River Cruise
The Huangpu River can be called either the Chun Shen River or the Huang Xie River. The upper reaches of the Huangpu River rise from pristine Dianshan Lake with the scenic "Grand view Garden" nearby. ...
Read more
---
» Find more in Shanghai, Shanghai