Hotel Colorado
The Hotel Colorado set in peaceful surroundings at 50 metres from the beach is a family-run business in Sottomarina. Completely remodernized and equipped with all comforts, on offer are many types o...
Read more
---

Hotel Baviera
Welcome to the Hotel Baviera, Sottomarina, Italy. Hotel Baviera, has recently been renovated, it consists of a modern building surrounded by tranquil green garden. The Hotel Baviera, Sottomari...
Read more
---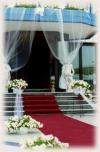 Hotel Real
Welcome to Hotel Real, Sottomarina, Italy, which is situated on the beach! Hotel Real guarantees an unforgettable stay, a warm familiar atmosphere, ensuring complete relaxation. The restaurant, with ...
Read more
---

Miramare Hotel
Welcome to Miramare Hotel, Sottomarina, Italy. The Miramare Hotel has been managed for 3 generations by the family Boscolo Chio, Miramare Hotel is in central position in Lungomare of Sottomarina, nea...
Read more
---

Metropol Hotel
Welcome to the Metropol Hotel, Sottomarina, Italy. Here you can expect great service. Metropol Hotel, Sottomarina offers a bar and inner parking area, a classified beach zone, perfectly equipped...
Read more
---
» Find more in Sottomarina, Venice