Hotel Atilius
WELCOME to Hotel Atilius Hotel Atilius, the epitome of comfort and elegance, is situated in an enviable spot in the heart of Riccione (Italy), just a short walk away from the beach, in a quiet but ...
Read more
---

Hotel Strand
Hotel Strand in Riccione Services of Hotel Strand : Fully airconditioned. Directly on the beach,renewed, no raods to cross. All the bedrooms of Hotel Strand in Riccione (Italy) feature balcony ...
Read more
---

Hotel Turas
Completely renewed, Hotel Turas is to be found in a tranquil spot near the sea and not far from the health spa in Riccione (Italy). All the en suite bedrooms feature shower, direct dial telephon...
Read more
---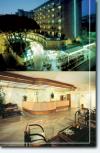 Hotel Concord
Hotel Concord in Riccione the Hotel of your dreams Hotel Concord,is an elegant four stars hotel , situated in the center of Riccione (Italy), close to Viale Ceccarini and 80 meters far from the beach...
Read more
---

Hotel Selene
The Vanni Bernabè family, which has been managing Hotel Selene in Riccione (Italy) for more than 30 years, is willing to welcome you kindly and friendly this year as always and to grant you a p...
Read more
---
» Find more in Riccione, Rimini