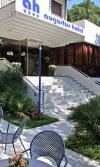 Hotel Augustus
The Hotel Augustus is located in the town centre of Riccione (Italy), a few steps from the sea and from Viale Ceccarini, surrounded by age-old pine-trees in an oasis of absolute peace and tranquillity...
Read more
---

Hotel Gabbiano
The Bianchi family has worked with passion for the growing of "Hotel Gabbiano" seeking to conjugate their love for Riccione (Italy) and their activity. This hard work and the attempts to imp...
Read more
---

Atlantic Hotel
Introducing the Atlantic Hotel. Atlantic images conjured up by the name, the fascination of Mediterranean light and contours, set at the very heart of the Green Pearl of the Adriatic. No more play o...
Read more
---
Residence Novella
The Residence Novella, open all the year round, is situated in the centre of Riccione (Italy), nearest the beach (30 m.), and the lively avenue Viale Dante. We propose you a new style of holiday, id...
Read more
---
Hotel Zenit
Small Hotel, Hotel Zenit, located at about 150 mt. from the sea in the north of Riccione (Italy), in an optimal (strategic) position for those who want to live and enjoy life on the beach, during the ...
Read more
---
» Find more in Riccione, Rimini