K-Tours Tel Aviv
K-Tours Tel Aviv is a young, dynamic and fully-licensed company. Established in 1993 as a service center for K-Tours BV Holland, we have since grown into an fully operational independent tour-operator...
Read more
---

Tel Aviv Museum of Art
The Tel Aviv Museum of Art, Israel's main art museum, first opened to the public in 1932 in the home of Tel Aviv's first mayor, Meir Dizengoff. The Museum quickly became the cultural center of the Tel...
Read more
---
The Cameri
The Theatre Established over 60 years ago, as Israel'??s first Hebrew-language repertory theatre, the Cameri has been dubbed the '??theatre of social responsibility.'?Ě Identified with the nation'??s...
Read more
---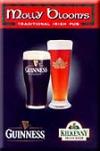 Molly Bloom's Irish Pub
Molly Bloom's Traditional Irish Pub gives visitors a taste of Irish pub hospitality. Molly Bloom's invites you to come inside and enjoy the friendly atmosphere in the heart of Tel Aviv, Israel. Now ...
Read more
---
C.T.O LTD
C.T.O LTD established 1969 is the leading company for weekly regular tours in Israel in various languages English, Spanish, German, Dutch, Italian etc., with extension tours to the middle east region,...
Read more
---
» Find more in Tel Aviv, Tel Aviv