Domina Dining
Welcome to Domina Dining in Rome, Lazio, Italy. At the Marco Polo restaurant you eat and breathe cultural fusion, something you can sense from a complete series of dishes from Italian cuisine and ori...
Read more
---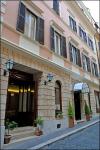 Albergo Ottocento Hotel
Located in the immediate proximity of the most beautiful streets (Trevi Fountain, Piazza Barberini) and the most important monuments in Rome, Lazio, Italy, (like Palazzo Barberini and Fontana di Trev...
Read more
---

Hotel Novecento
Hotel Novecento is located in a quiet, elegant area in the heart of Rome, Lazio, Italy, near the Colosseum and Roman Forum and among the Basilicas of San Giovanni in Laterano, Santa Maria Maggiore and...
Read more
---

Hotel Morgana
Hotel Morgana is a superior first-class hotel in Rome, Lazio, Italy, and has recently been renovated. The quality furnishings and details of Hotel Morgana offer a very pleasant stay in Rome, Lazio. Ho...
Read more
---

The Refectory
The Refectory, a breakfast room in Rome, Lazio, Italy, is used in recollection of the monasteries where the monks used to gather three times a day for meals, preceded and accompanied by prayers. Next ...
Read more
---
» Find more in Rome, Lazio