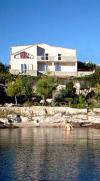 Villa Sole
Welcome to Villa Sole, Korcula, Croatia. Located in a seaside bay in the serene settlement coastline of Soline, 4km from the old town of Korcula, Villa Sole provides a peaceful retreat in tranquil sur...
Read more
---

Cathedral Sveti Marko
Welcome to the Cathedral Sveti Marko, Korcula, Croatia. This is probably the most important building in the Korcula Old Town. It is built in Gothic-Renaissance style, completed in 15th century at the ...
Read more
---

Hotel Marko Polo
Recently renovated Hotel Marko Polo in Korcula consists of a reception hall, a restaurant, a café, an aperitif bar, a souvenir shop and a TV salon. The hotel has 94 rooms, capacity 210 pe...
Read more
---

House Rondina
Welcome to House Rondina, a Self Catering Apartment in Old Town, Korcula, Croatia. House Rondina offers double and single rooms as well as one Self Catering Apartment that can accommodate up to 5 peo...
Read more
---

Fishing
Most of the people from the island of Korcula, Croatia, fish the area surrounding the island while some, more experienced dare to sail to the Island of Lastovo, Mljet and Glavat. Locals mainly fish in...
Read more
---
» Find more in Korcula, Dubrovnik-Neretva