COWS
Welcome to COWS Ice Cream Parlour, Whistler, Canada. COWS began to make ice cream in 1983 with an old-fashioned family recipe that originated in Cavendish, Prince Edward Island. In fact, our secret C...
Read more
---

Chalet Luise
Welcome to the Chalet Luise, Whistler, Canada. Chalet Luise is a clean and comfortable B&B Inn, offering quality European style accommodation. It is centrally located and only a short walk to Whistle...
Read more
---

Bavaria Restaurant
Welcome to the Bavaria Restaurant, Whistler, Canada. Where else in British Columbia would you expect true Alpine cuisine than emits the beautiful and majestic mountains of Whistler? At Bavaria Rest...
Read more
---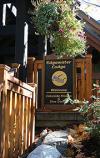 Edgewater Lodge
Welcome to Edgewater Lodge, Whistler, Canada. A private estate: 42 acres of the most beautiful forested property imaginable in one of Earth's more amazing settings. Spectacular dining and views. ...
Read more
---

Senka Florist
Welcome to Senka Florist, Whistler, Canada. Senka Florist was established in 1995 in Whistler, BC. The company was started by Kaoru Nakahama,AIFD and Hidemi Ono. The business has grown successfully i...
Read more
---
» Find more in Whistler, British Columbia