Inn at Clifftop
Welcome to the Inn at Clifftop Lane, Whistler, Canada. Inn at Clifftop Lane Nestled on Clifftop Lane in Whistler, British Columbia, is an Inn of incomparable warmth & elegance, newly constructed ...
Read more
---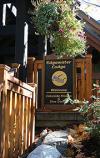 Edgewater Lodge
Welcome to Edgewater Lodge, Whistler, Canada. A private estate: 42 acres of the most beautiful forested property imaginable in one of Earth's more amazing settings. Spectacular dining and views. ...
Read more
---

The Wildflower
Welcome to the Wildflower Restaurant, Whistler, Canada. A warm, inviting ambiance is signature of The Wildflower's casual setting. Open for breakfast and dinner, our culinary team invites you to sa...
Read more
---

Bavaria Restaurant
Welcome to the Bavaria Restaurant, Whistler, Canada. Where else in British Columbia would you expect true Alpine cuisine than emits the beautiful and majestic mountains of Whistler? At Bavaria Rest...
Read more
---

Greystone Lodge
Welcome to Greystone Lodge, Whistler, Canada. Located on Blackcomb Mountain in Whistler, the Greystone Lodge provides visitors to Whistler/Blackcomb Ski Resort with luxury and convenience in these sk...
Read more
---
» Find more in Whistler, British Columbia