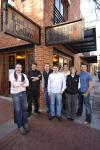 East End Cellars
Welcome to East End Cellars, Adelaide, Australia. East End Cellars was opened in January 1998 by Michael Andrewartha, an incurable wine fanatic with over twenty years experience in fine wine retail. ...
Read more
---
What a Dish
Welcome to What a Dish, Adelaide, Australia. At What a Dish, our cuisine is made on our premises by award-winning qualified chefs. Select from our special menu packages or customise your menu for co...
Read more
---

Ayers House Museum
Welcome to Ayes House Museum, Adelaide, Australia. The colonial mansion named after the nineteenth century state premier Sir Henry Ayers, Ayes House Museum illustrates Victorian domestic life as it w...
Read more
---

DFK International
Welcome to DFK International Accountants, Adelaide, Australia. The closer the Accountants to the action - the more valuable the advice will be. The partners of DFK Gray Perry, Adelaide take a h...
Read more
---

AJ Sound
Welcome to AJ Sound, Adelaide, Australia. Established in 1996 AJ Sound is the largest provider of in house audio rental solutions to Adelaide venues. We have a team of skilled sound, lighting an...
Read more
---
» Find more in Adelaide, South Australia