Vivid Room
Welcome to the Vivid Room, Adelaide, Australia. The Vivid Room, Adelaide is a boutique Australian homewares and event products company. Our aim is to provide high quality, original homewares and event...
Read more
---

Adelaide Granada Motel
Welcome to Adelaide Granada Motel, Adelaide, Australia. The Adelaide Granada Motel Inn is nestled in the picturesque Adelaide foothills in one of the city's most prestigious suburbs. The Motel has a ...
Read more
---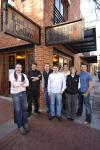 East End Cellars
Welcome to East End Cellars, Adelaide, Australia. East End Cellars was opened in January 1998 by Michael Andrewartha, an incurable wine fanatic with over twenty years experience in fine wine retail. ...
Read more
---
Pro Show
Pro Show provides premium Audiovisual services at affordable prices to the business events market. Pro Show,provides in-house services at a number of Adelaide venues, as well as providing event ser...
Read more
---

DFK International
Welcome to DFK International Accountants, Adelaide, Australia. The closer the Accountants to the action - the more valuable the advice will be. The partners of DFK Gray Perry, Adelaide take a h...
Read more
---
» Find more in Adelaide, South Australia