Cronulla Florist
Welcome to Cronulla Florist, Australia. We can send a beautiful fresh flower bouquet to all locations in Cronulla Australia, or a stylish arrangement or a gift basket to anyone in Cronulla anyt...
Read more
---

Cronulla Railway Station
Cronulla Railway Station, Australia, is a Railway Station on the Cityrail network, a short distance from Cronulla Beach of Sydney, Australia, on the Pacific Ocean. It is the eastern terminus of a sing...
Read more
---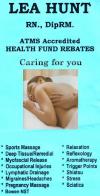 Lea Hunt
Welcome to Lea Hunt, Cronulla, Australia, a Massage Therapist and Registered Nurse. Lea Hunt,offers the following services: Deep Tissue, Relaxation, Remedial, Sport and Swedish massage. Lea Hunt's ...
Read more
---

Cronulla High School
Welcome to Cronulla High School, Australia. You are enrolling your child in a growing school with an excellent reputation in its community. Cronulla High School has been awarded a Director-General&rsq...
Read more
---

Cronulla Houseboats
Cronulla Houseboats have a range of vessels to choose from. It all depends on what you want to do! Cronulla Houseboats, Australia, can assist you to select the best vessel for your needs Escape overn...
Read more
---
» Find more in Cronulla, Sydney