Royal Winnipeg Ballet
Versatility, technical excellence, and a captivating style are the trademarks of Canada's Royal Winnipeg Ballet, qualities that have garnered both critical and audience acclaim. These qualities keep t...
Read more
---

The Fairmont Winnipeg
Embrace the spirit of this cosmopolitan city, whether experiencing its diverse culture, marvellous shopping or stunning cityscapes. Located in the heart of vibrant downtown Winnipeg,The Fairmont Winni...
Read more
---

Hilton Suites Winnipeg Airport Hotel
Welcome to the the Hilton Suites Winnipeg Airport Hotel, ideally located minutes from the Winnipeg International Airport and located within the Winnipeg Airport Industrial Park. The personal and frien...
Read more
---
Zaniac Photo
At Zaniac Photo, Deanna strives to provide unique, timeless photos for any occasion. Deanna of Zaniac Photo is a freelance photographer, experienced in portraiture, fine art, sports, event and commer...
Read more
---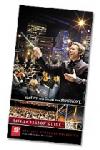 Winnipeg Symphony Orchestra
For 60 years the Winnipeg Symphony Orchestra has delighted audiences with its innovative programming and musical excellence. The Winnipeg Symphony Orchestra, Canada, has become the celebrated hub of W...
Read more
---
» Find more in Winnipeg, Winnipeg Capital Region