Barakuda Diving Centre
Welcome to the Barakuda Diving Centre located in the Hotel area of Lagona Village, Egypt. The Barakuda Diving Centre has been managed by Susanne Rossbach since 1999 and her professional Diving team....
Read more
---

The Oricana Hotel
Welcome to the Oricana Hotel, Dahab, Egypt. The Oricana Hotel spreads along the main road, at the southern end of Dahab, lying in an ideal, quiet part and far away from the crowds. The Oricana Hot...
Read more
---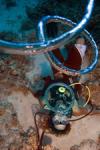 Poseidon Divers
Welcome to Poseidon Divers, Dahab, Egypt. Poseidon Divers is a long established group of dive centres that were the first PADI Career Development Centres and PADI National Geographic Centres in Dahab...
Read more
---

Harry Nass Surf & Action Centre
Harry Nass Surf & Action Centre in Dahab offers a Surfers Paradise & Holidays Heaven on the Sinai Peninsula. Only a 4 hour flight from Europe and sporting 3 surf areas with 2 centres and 1 address in...
Read more
---

Octopus Divers
Welcome to Octopus Divers, Dahab, Egypt. Octopus Divers pride themselves on being passionate, professional, and personalised in all the Red Sea scuba Diving trips. Whether scuba Diving with Octop...
Read more
---
» Find more in Dahab, Sinai Peninsula