The Blue Beach Club
Welcome to The Blue Beach Club, Egypt, located just beyond the hustle and bustle of Dahab bay. Within a five minute walk from the famous Eel Garden dive site, the Hotel boasts a fresh water swimming ...
Read more
---

Ganet Sinai
Ganet Sinai, meaning "Sinai's Paradise" is one of the premier Resorts in Dahab with its own private golden sandy beach on the shores of the Red Sea on the Gulf of Aqaba. Each guest at the Ga...
Read more
---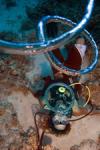 Poseidon Divers
Welcome to Poseidon Divers, Dahab, Egypt. Poseidon Divers is a long established group of dive centres that were the first PADI Career Development Centres and PADI National Geographic Centres in Dahab...
Read more
---

Bishibishi Garden Village
Welcome to Dahab, South Sinai, Egypt and Bishbishi Garden Village, Backpackers paradise. Bishbishi's restaurant is located in the centre of the camp and offer delicious breakfasts, creamy and thick m...
Read more
---

Swiss Inn Resort
Hidden in the vast desert and majestic mountains of the Sinai, lies the resort of The Swiss Inn Resort, Dahab, Egypt. Dahab means "gold" in Arabic and is a paradise for surfers and di...
Read more
---
» Find more in Dahab, Sinai Peninsula