Hampton Inn & Suites
Welcome to the Hampton Inn & Suites Ft. Myers/Estero, Florida, United States. Stroll the beaches or explore the nearby islands when you visit Fort Myers, offering family-friendly seaside fun, eco...
Read more
---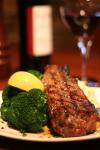 The Grill Room
Welcome to the Grill Room, Estero, United States. The Grill Room has a warm, cosy atmosphere surrounded by hardwood floors, hand-laid mosaic tiling, mood lighting and tall, leather booths, The Grill ...
Read more
---

West Bay Club
Welcome to the West Bay Club, Estero, United States. The West Bay Club has gorgeous natural surroundings, an exceptional golf course and Club, a private beach Club on the Gulf of Mexico, a full socia...
Read more
---

Arizona Pizza
At Arizona Pizza in Estero... We capture the imagination of old and young alike while providing pure food enjoyment and entertainment for those of all ages, interests and lifestyles. Arizona Pizza s...
Read more
---

Ristorante Farfalla
Welcome to Ristorante Farfalla, Estero, United States. The Ristorante Farfalla would take great delight in hosting your dinner party, and hope that we can assist you in planning your special evening. ...
Read more
---
» Find more in Estero, Lee County