Hilton Dahab Resort
Welcome to the Hilton Dahab Resort, Egypt. The Hilton Dahab Resort Hotel has its own private beach and on-site diving school. Soak up the sun at the sleek outdoor pool or try scuba diving or windsurf...
Read more
---

The Blue Beach Club
Welcome to The Blue Beach Club, Egypt, located just beyond the hustle and bustle of Dahab bay. Within a five minute walk from the famous Eel Garden dive site, the Hotel boasts a fresh water swimming ...
Read more
---

Octopus Divers
Welcome to Octopus Divers, Dahab, Egypt. Octopus Divers pride themselves on being passionate, professional, and personalised in all the Red Sea scuba Diving trips. Whether scuba Diving with Octop...
Read more
---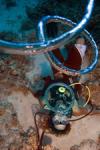 Poseidon Divers
Welcome to Poseidon Divers, Dahab, Egypt. Poseidon Divers is a long established group of dive centres that were the first PADI Career Development Centres and PADI National Geographic Centres in Dahab...
Read more
---

Ali Baba Hotel
Welcome to The Ali Baba Hotel, Dahab, Egypt. The Ali Baba Hotel is situated in the heart of Dahab Bay overlooking the sea. The Hotel has been designed in a beautiful traditional Arabesque style (hand...
Read more
---
» Find more in Dahab, Sinai Peninsula