Didovic Zrnovo Cottage
Welcome to Didovic Zrnovo Cottage, a Self Catering Cottage in Korcula, Croatia. This is a unique opportunity to experience the real rural life at the Island of Korcula. The 150 year old little cottage...
Read more
---

Cathedral Sveti Marko
Welcome to the Cathedral Sveti Marko, Korcula, Croatia. This is probably the most important building in the Korcula Old Town. It is built in Gothic-Renaissance style, completed in 15th century at the ...
Read more
---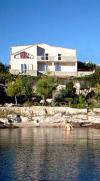 Villa Sole
Welcome to Villa Sole, Korcula, Croatia. Located in a seaside bay in the serene settlement coastline of Soline, 4km from the old town of Korcula, Villa Sole provides a peaceful retreat in tranquil sur...
Read more
---

Hotel Bon Repos
Welcome to Hotel Bon Repos, Korcula, Croatia. The Hotel Bon Repos is built in typical style of 70's architecture. The Hotel is positioned right on the seashore of Korcula Luka Korculanska Beach, in t...
Read more
---

Lumbarda Hotel
Welcome to the Lumbarda Hotel, Korcula, Croatia. The Lumbarda Hotel is situated in the large sandy bay in the Lumbarda village on the island of Korcula. The location of the Lumbarda Hotel is in the p...
Read more
---
» Find more in Korcula, Dubrovnik-Neretva