Cathedral Sveti Marko
Welcome to the Cathedral Sveti Marko, Korcula, Croatia. This is probably the most important building in the Korcula Old Town. It is built in Gothic-Renaissance style, completed in 15th century at the ...
Read more
---

Restaurant Grubinjac
Welcome to Restaurant Grubinjac, Korcula, Croatia. Restaurant Grubinjac is a small place located at one of the most beautiful panorama spots around Korcula Old Town. It is created out of the old farm...
Read more
---
Apartment Irena
Welcome to Self Catering Apartment Irena, Korcula, Croatia. Apartment Irena is situated on the top floor of the old house located in the very centre of Korcula town. Being situated in the loft on th...
Read more
---

Fishing
Most of the people from the island of Korcula, Croatia, fish the area surrounding the island while some, more experienced dare to sail to the Island of Lastovo, Mljet and Glavat. Locals mainly fish in...
Read more
---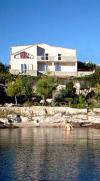 Villa Sole
Welcome to Villa Sole, Korcula, Croatia. Located in a seaside bay in the serene settlement coastline of Soline, 4km from the old town of Korcula, Villa Sole provides a peaceful retreat in tranquil sur...
Read more
---
» Find more in Korcula, Dubrovnik-Neretva