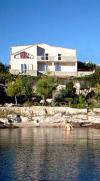 Villa Sole
Welcome to Villa Sole, Korcula, Croatia. Located in a seaside bay in the serene settlement coastline of Soline, 4km from the old town of Korcula, Villa Sole provides a peaceful retreat in tranquil sur...
Read more
---

Hotel Korcula
Welcome to Hotel Korcula, Croatia. This small and long-established Korcula Hotel is a perfectly proportioned building built in shiny white Korcula stone in a great location facing Korcula Old City ha...
Read more
---

Hotel Liburna
Welcome to Hotel Liburna, Korcula, Croatia. Hotel Liburna is built in a traditional style of white Dalmatian stone on a tiny wooded peninsula of Luka Korculanska, to harmonize with its surroundings. ...
Read more
---

Camp Kalac
Welcome to Camp Kalac, Korcula, Croatia. Camp Kalac is a large Campsite (10 000 m2) situated in the bay of Luka Korculanska, about a 20 minute pleasant walk along the bay/seashore from Korcula Old To...
Read more
---

House Rondina
Welcome to House Rondina, a Self Catering Apartment in Old Town, Korcula, Croatia. House Rondina offers double and single rooms as well as one Self Catering Apartment that can accommodate up to 5 peo...
Read more
---
» Find more in Korcula, Dubrovnik-Neretva