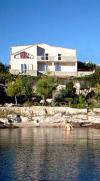 Villa Sole
Welcome to Villa Sole, Korcula, Croatia. Located in a seaside bay in the serene settlement coastline of Soline, 4km from the old town of Korcula, Villa Sole provides a peaceful retreat in tranquil sur...
Read more
---

Hotel Korcula
Welcome to Hotel Korcula, Croatia. This small and long-established Korcula Hotel is a perfectly proportioned building built in shiny white Korcula stone in a great location facing Korcula Old City ha...
Read more
---
Apartment Neda
Welcome to Apartment Neda, a Self Catering Apartment in Strecica Bay, Korcula, Croatia. Apartment Neda offers one double bedroom Self Catering Apartment that can accommodate up to 3 people. The...
Read more
---

Lumbarda Hotel
Welcome to the Lumbarda Hotel, Korcula, Croatia. The Lumbarda Hotel is situated in the large sandy bay in the Lumbarda village on the island of Korcula. The location of the Lumbarda Hotel is in the p...
Read more
---

Hotel Liburna
Welcome to Hotel Liburna, Korcula, Croatia. Hotel Liburna is built in a traditional style of white Dalmatian stone on a tiny wooded peninsula of Luka Korculanska, to harmonize with its surroundings. ...
Read more
---
» Find more in Korcula, Dubrovnik-Neretva