St Christopherâ??s Inn
Welcome to St Christopher Inn, Berlin Backpackers Hostel, ideally located in the exciting and historic Berlin Mitte. As Europe's most dynamic capital, Berlin is famous for its extroverted nightl...
Read more
---

Hollywood Media Hotel
The Hollywood Media Hotel in Berlin, Germany, is conveniently situated right on the famous shopping boulevard "Kurfürstendamm", just 6 km away from Tegel Airport and 2 km from the exhib...
Read more
---

The Sunflower Hostel
Located in the young and progressive district Friedrichshain in Berlin, Germany, The Sunflower Hostel offers the perfect laidback home with loads of cafes, bars, cheap eats, vivid clubs of all kinds a...
Read more
---

Hackescher Hof
Welcome to Hackescher Hof in Berlin, Germany. Once purely a wine restaurant, Hackescher Hof is a favourite meeting place of the cultural and business life of Berlin. Hackescher Hof offrs an i...
Read more
---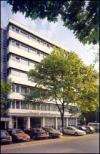 The Quentin Berlin Hotel
In the centre of the fascinating metropolis of Berlin, in a peaceful side street near the famous boulevard Kurfürstendamm, The Quentin Berlin Hotel offers relaxation fro...
Read more
---
» Find more in Berlin, Berlin