Holiday Inn Montreal Midtown
Located in downtown Montreal, Canada, Holiday Inn Montreal Midtown is within walking distance of major shopping areas, restaurants and night life, only 1 mile to the Montreal Convention Centre and jus...
Read more
---

With an outstanding collection that boasts more than 22,000 species and varieties of plants, the Montréal Botanical Garden in Montreal, Canada, is considered one of the world's best. Over...
Read more
---

The Hotel Champ-de-Mars is located at the eastern main entrance of the Old Port of Montreal, Canada ...
Read more
---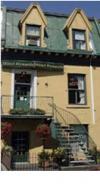 Hotel Dynastie
Welcome to Hotel Dynastie, a small hotel with 6 rooms over 3 floors in Montreal, Canada. All the rooms in Hotel Dynastie,are quiet and are regularly renovated rooms. Hotel Dynastie is sit...
Read more
---

Hotel Le St-James
Welcome to Hotel Le St James in Montreal, Canada where you will find that the Grand Salon formerly known as the 'Bankers Hall', with its two mezzanines fit for an opera, offers a relaxing atmosphere. ...
Read more
---
» Find more in Montreal, Quebec